Defense and Homeland Security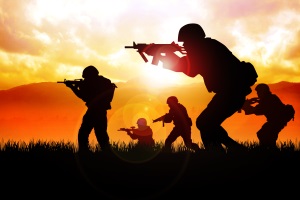 Twenty Years and Counting
For more than twenty years SafetySkills has been assisting government and private-sector organizations in strengthening their emergency planning, compliance, preparedness, and response capabilities with quality safety, environmental and emergency response training. We have completed over 800 EHS training contracts with the US Department of Defense alone in subjects ranging from Pollution Prevention Initiatives to Responding to Weapons of Mass Destruction. Our depth of experience is key in delivering the comprehensive services, exercises and training needed to protect your people, assets, and operations.
Comprehensive Solutions
We have developed an intimate understanding of the unique EHS risks and regulatory challenges our defense and homeland security installations face in accomplishing their missions. Our instructional designers, instructors and consultants have worked to develop over 50 mission-specific, service-specific, and command-specific training programs for all branches of service at home and overseas. Our project work has been with all branches of the military, but primarily US Army and Reserve in recent years, in the US and overseas. We have also served the US Coast Guard, Transportation Security Administration and the FAA with distinction and our record speaks for itself.
Unmatched Experience
We have trained over 2,500 Level III Hazmat Technicians under NFPA 471/472 for the US and our allies
We have delivered chemical, biological, radioactive, nuclear and explosive (CBRNE) response training to over 50 commands within the US Defense Department and NATO
Provided emergency response training in eighteen countries and in seven languages
Completed over 1,000,000 hours of student contact training
SafetySkills specializes in producing custom training approaches tailored to meet the unique operational, regulatory, and policy needs of clients in the defense and homeland security sectors.
Contact us
to learn more about how we can meet your training needs.
---
One of our many clients in this industry
---
Industry Courses
Call today, and talk to one of our knowledgeable representatives about how SafetySkills can help make your EHS training program a success!
---
Clients in this Industry
---
An Engaging Experience
SafetySkills online safety training courseware encompasses rich media animations, studio produced audio, dynamic Flash and 3D simulations designed not only to convey the subject matter, but to engage the learner.
Your learners won't be able to go brain-dead, simply toggling through slides; rather they are continuously challenged throughout the course to solve puzzles, answer questions and interact with the training.
Because Online Safety Training is NOT a Spectator Sport
Comprehensive Catalog
Online Safety Training
The SafetySkills training library consists of 350+ environmental, occupational health and safety (EHS) and human resources (HR) compliance titles targeted toward multiple industries.
We believe that training is more effective when the learner can identify and relate to the situations, subjects and environments specific to their own industry. SafetySkills online safety training courseware includes EHS and HR series focused on specific industries, including: