Close
Understanding the Uses of Personal Protective Equipment in Canada
Thursday, May 28th, 2020
From British Columbia to Newfoundland and Labrador, Canadians often find themselves the target of safety blitzes. These have been conducted on everything from commercial vehicles to musculoskeletal injury prevention.
In early March, the Ontario Ministry of Labour completed a five-week blitz on construction and roadwork sites looking specifically at personal protective equipment, or PPE. While this safety blitz targeted specific industries, PPE is useful — and often required — in any number of jobs.
In 1978, the Parliament of Canada passed the Canadian Centre for Occupational Health and Safety Act to "promote the fundamental right of Canadians to a healthy and safe working environment."
Part of this Act was the establishment of the Canadian Centre for Occupational Health and Safety (CCOHS), which has a goal of eliminating work-related illnesses and injuries across Canada. The CCOHS is governed by a tripartite Council of Governors representing the government, employers and workers to create a balanced agency.
Because PPE is seen as one of the simplest ways of protecting workers in any industry, the CCOHS offers much guidance on the selection, fit, testing and other requirements of PPE.
While each Canadian jurisdiction may have different requirements for when certain PPE must be used (for instance, when it comes to hearing conservation), the actual types and uses of PPE remain constant.
From your head to your feet, there are types of PPE for every body part and for different situations. How do you know which items of PPE are appropriate, and when?
Looking for more online safety training content?
VIEW THE 600+ COURSES AVAILABLE!
Basic Types of PPE
No matter what kind of hazard may be present on a jobsite, there is some form of PPE that can help protect affected workers. While there are four general categories of PPE, we have broken them down further to provide more detailed examples.
1. Head
Providing head protection is one of the easiest ways to protect employees from serious injury or even death. It is crucial that hard hats or other headgear fit the individual employee for proper use, and you should always replace a hard hat if it sustains an impact, even if there is no noticeable damage.
2. Eyes
According to the Canadian National Institute for the Blind, more than 700 Canadian workers sustain eye injuries each day while on the job. The majority of these cases can be avoided simply by using appropriate PPE. The proper glasses, goggles or face shields can protect workers from projectiles, chemicals, radiation and bloodborne pathogens. Understanding the dangers within your workplace will determine the level of eye protection needed.
3. Hearing
Year in and year out, occupational noise is a problem for Canadian workers. In addition to implementing controls to minimize or remove hearing hazards, employees may be required to wear some sort of hearing protection, which could include anything from ear plugs to ear muffs.
4. Hands
Perhaps unsurprisingly, there are many types of gloves available to protect against many types of hazards. The nature of the hazard will affect the selection of a glove, from cotton to latex to metal mesh and more. Comfort and functionality are both extremely important when considering the fit of any glove.
5. Feet
Similar to the hands, there are many different hazards that may cause foot and leg injuries, including falling or rolling objects, crushing machinery, corrosive material or electricity. Based on the potential hazards, required PPE may range from leggings to toe guards or even specially designed safety shoes.
6. Respiratory
For obvious reasons, this category of PPE is often considered the most important for all workers in any industry. To understand what type of respirator should be utilized at your jobsite, consider the different hazards a worker might face. No matter which type is selected, equipment must be fit-tested and all employees need to undergo proper training before wearing any type of mask or breathing apparatus.
7. Body
Full-body suits can help protect employees from things such as cuts, radiation, heat or cold, chemicals and liquid splashes. PPE clothing must be inspected before each use and needs to fit the affected employee properly. If tears occur or if dangerous substances end up on the clothing, all items need to be properly disposed of.
8. Fall
In 2017, the Association of Workers' Compensation Boards of Canada found that falls accounted for 1 in 5 lost-time claims, with almost 50,000 falls across Canada. However, such incidents can be easily prevented by implementing fall protection PPE, such as harness systems or safety lanyards.
Understand the Limits of PPE
One extremely important aspect of personal protective equipment is understanding when it needs to be used. Conversely, employers and employees also need to recognize when PPE will not be useful or sufficient.
Within the hierarchy of hazard controls, PPE is the least effective means of controlling hazards. Here is a full breakdown of the hierarchy of hazard controls, from most effective to least effective:
Elimination consists of physically removing the hazard. For instance, if employees are working high above the ground, move the piece they are working on to ground level.
Substitution replaces something that produces a hazard with something that does not. A common example is the use of titanium dioxide instead of lead-based paint.
Engineering controls isolate people from hazards but do not eliminate the hazards themselves, such as adding guard rails rather than invest in fall arrest systems.
Administrative controls change how people work in order to limit exposure to hazards. This ranges from installing warning signs to implementing procedural changes.
PPE reduces exposure to hazards when engineering and administrative controls are not feasible or effective. PPE is needed whenever there are hazards present.
Though it may be the least-effective hazard control option, employers find that it is often much easier to implement PPE, especially when you consider that various types can be easily utilized in a number of workplace scenarios.
Who is Responsible for Worker PPE?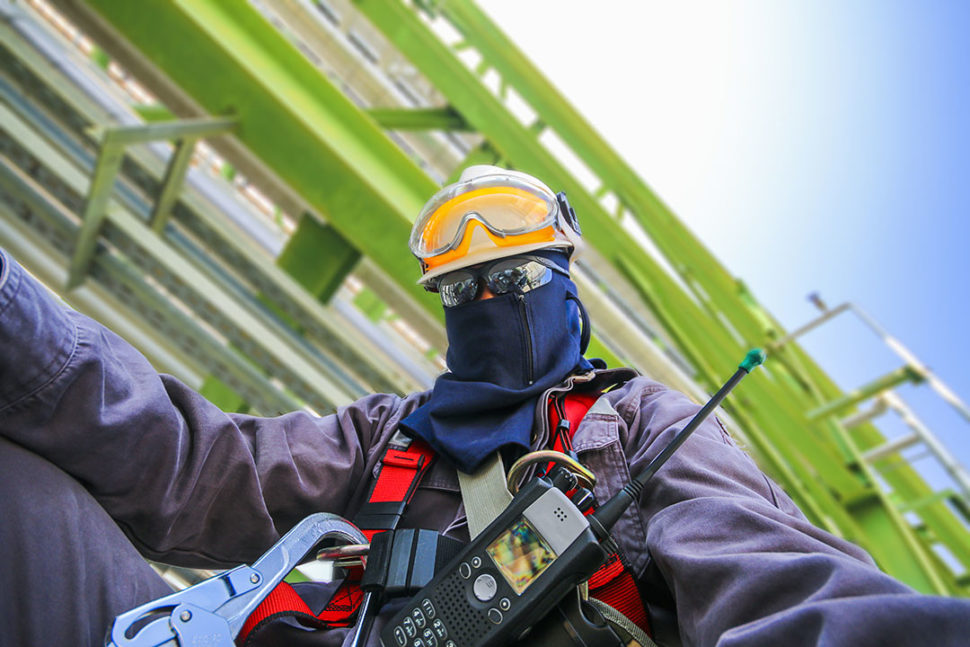 No matter what kind of hazard may be present on a jobsite, there is some form of personal protective equipment (PPE) that can help protect affected workers. While all Canadian jurisdictions require the use of PPE, the question of who is responsible for providing and paying for PPE varies throughout the country.
The Northwest Territories, Nunavut and Quebec require the employer to provide all necessary PPE at no cost to the employee. Six jurisdictions (Alberta, British Columbia, New Brunswick, Nova Scotia, Saskatchewan and Yukon) offer some guidance regarding who is responsible for the cost.
The remaining jurisdictions (Manitoba, Newfoundland and Labrador, Ontario, Prince Edward Island and any organization falling under federal jurisdiction) are not specific about responsibility.
However, regardless of who pays for the equipment, it is still up to the employer to ensure all PPE is the correct type and is in safe working condition, and that each employee is properly trained on using the equipment.
Training on PPE
A major benefit of online training is that it can be completed by employees at any location. Whether you have an office employee taking the course on a desktop computer or an oil worker going through training on a tablet while on the rig, online courses make training fully accessible.
When it comes to PPE, some in-person training will very likely be required no matter what. For instance, anyone can take an online respiratory protection course to understand the basics and general safety concepts, but until an employee has physically handled the types of respirators they could encounter, they may not be prepared to effectively use the PPE on the job.
Online training also makes it easier to repeat training as often as is needed — or as often as you'd like. Even if not required, when it comes to personal protective equipment, it is never a bad idea to brush up on training.
Contact SafetySkills today to find out how you can easily get all employees up to speed on the different types of personal protective equipment that may be required at your jobsite.
Ready to start your online safety training program with SafetySkills?